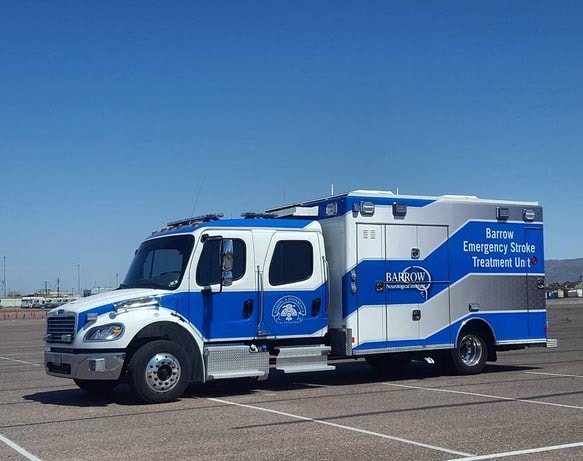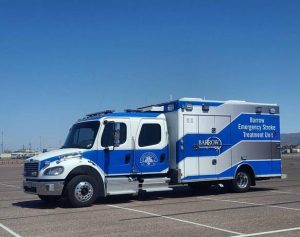 The Barrow Mobile Stroke Unit manufactured by Excellance has been featured on the Arizona News channel CN. Read on.
Stroke victims who have only minutes to get treatment before their brains suffer permanent damage are getting help faster through the eyes of cameras on a mobile stroke van, doctors at Barrow Neurological Institute said.
"The fact is, we know time is brain," said Gabriel Gabriel, a registered nurse who oversees the unit.
Guidelines say patients who receive treatment within 60 minutes of a stroke have the best chance of recovery, and on-the-scene treatment in the mobile stroke unit leads to shorter hospital stays of one or two days, Gabriel said.
Stroke is the No. 5 cause of death in the U.S., killing nearly 133,000 people a year, according to the American Stroke Association. The association says immediate treatment minimizes the long-term effects of a stroke and can even prevent death.
The Barrow van operates within a 20-minute radius of the hospital, at Third Avenue and Thomas Road in central Phoenix. Fire Department paramedics who attend to potential stroke victims call the van, which carries medical workers, supplies and equipment – and two cameras that can zoom in so closely they see a patient's pupils. Doctors at the hospital can see the patient, assess the person's condition and authorize treatment.
Dr. Michael Waters, director of the stroke program at Barrow Neurological Institute, can monitor and even talk to patients from the hospital while they're being treated in the van. (Photo by Daria Kadovik/Cronkite News)
Barrow medical representatives, who spoke to members of the Association of Health Care Journalists touring the van, said it provides faster stroke diagnosis and treatment. The institute also presented other technology, including a 3-D printing of spines doctors use to practice surgical techniques.
The stroke unit, which costs about $1 million, also is equipped with a portable head CT scanner and a small laboratory so a physician at the hospital can assess the situation and evaluate the patient, said Dr. Michael Waters, director of the stroke program.
The stroke team on the van includes nurses and CT specialists who treat a patient under the guidance of the doctor monitoring the scene from Barrow. Then, a patient is transported to the hospital in an ambulance – with lights flashing and sirens blaring, it can reach the hospital faster than the van.
Gabriel said there are only about 11 similar units in the world.
Source: Cronkite News